Tank truck Loading in a Terminal – Italy
Tank truck loading in oil terminals is a common process that involves the transfer oil products from storage tanks within the terminal to the cargo tanks of tank trucks.
Our customer, an important consortium of leading Italian oil companies, needed to carry out tank truck loading at an oil depot together with in line additive/denaturant injection and also required a loading management system to control the process.
The depot receives large quantities of different products from ship tankers and it then delivers the final products to many gas stations and industrial users located in northern Italy.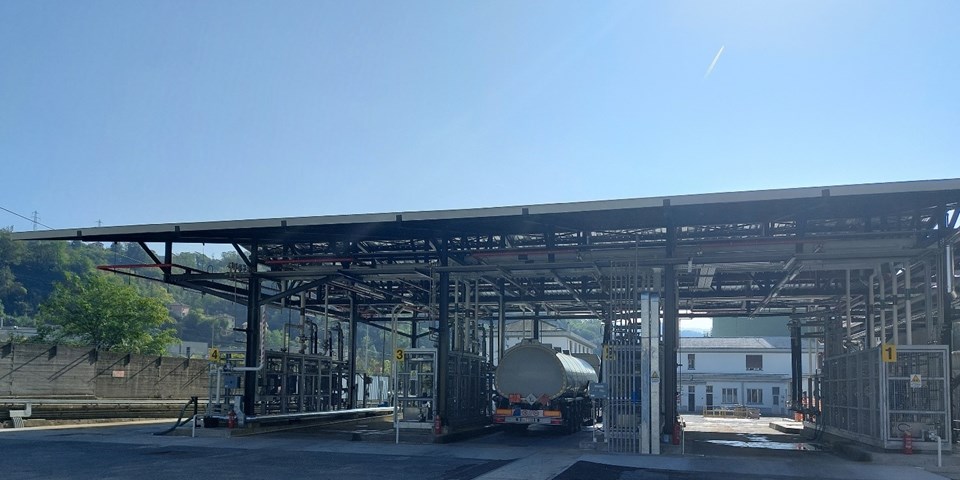 In such a situation the main points taken into consideration were:
Ensuring proper handling - all oil products are potentially hazardous materials that require careful handling to prevent spills or leaks and also sparks that could expose to risk both human health and the environment;
Managing large quantities of different products and ensuring accurate measurements - accurate measurement of the volume and quality of oil products is essential to ensure that the products meet the necessary specifications and are properly tracked and recorded;
Protecting measuring systems from unauthorized transactions;
Granting in line and precise additive/denaturant injection since the consortium's partner oil companies needed to obtain diesel oil and petrol already mixed with additives for their own performance products. In addition, the Italian market allows in-line denaturant injection of specific products with subsidized excise duties such as agricultural diesel and heating oil, provided that the instrumentation used has specific real-time control.
Ensuring accurate control of the entire process.
To address such needs ISOIL Impianti designed and provided a custom-made solution including the following:
4 loading skids,  one for each loading bay with BMV/FM p.d. meter, strainer air separator, pulse emitter, ISOVALVE automatic valve, PT100 thermoresistance, and loading bay terminal to grant precise measurement, efficient air elimination and process management and monitoring;
A total of 18 loading arms to load tank trucks and manage the different products;
Each measuring system installed on the skids was MID compliant;
Each skid was provided with MT40 Grounding System to prevent the accumulation of static charges on the tank truck and reduce the risk of shock hazards;
Anti-overfilling system to prevent spilling of product
Each skid was mounted inside a stainless-steel cage with lock to avoid unauthorized transactions.
IB2 injection blocks managed by a VEGA 3 flow computer;
4 additive injection skids (2 for diesel oil and 2 for petrol) and 1 additive injection skid with double circuit and tank (one for agricultural diesel and one for heating oil).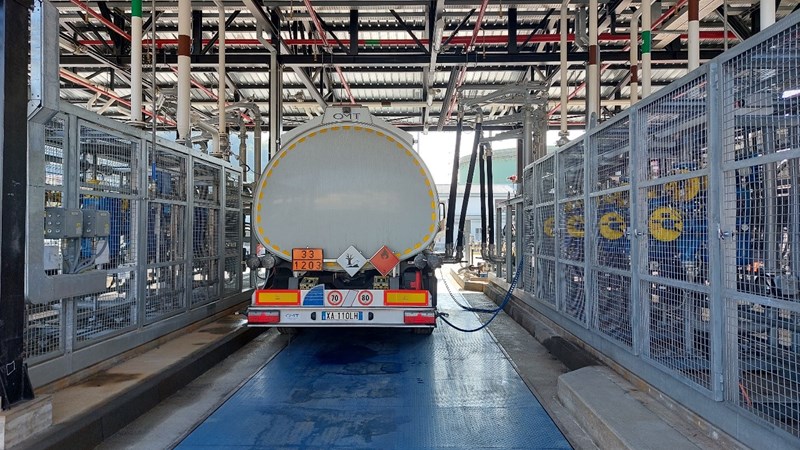 Oil Terminal - Tank Truck Loading
Oil Terminal - Additive Injection Skids
The advantage of skid solutions is making the installation as easy and fast as possible and it is suggested for all the projects with several construction steps, avoiding a lot of welding and civil works on site.
Moreover, the piping and electrical connections have already been prearranged to add blending with bioethanol in all the loading arms dedicated to petrol, a project that will be implemented in 2024, together with the supply of other measuring units.
Supervision of the procedures and documentation are also essential to ensure that the product meets the necessary specifications and the data are properly tracked and recorded.
We therefore customized a load supervision system complete with:
server

operator workstations with PC

booking area with touch screen totem and PC: driver identification is made by fingerprint

camera to read the trucks number plates at the parking exit gate for loading/unloading

connection to send the necessary information to the specific software managing the loading area

Panel PC to validate document collection, 1 PC and 2 RFID badge readers for bidirectional turnstile entry/exit control

Badge reader for drivers accessing the depot for biodiesel unloading.
As a solution provider ISOIL Impianti can help you in the designing, customization and installation of the product/system that best fits your needs.