Aircraft Refueling Solutions
For over 60 years, ISOIL has been a leader in the oil industry, offering a broad range of solutions for aircraft refuelers.
ISOIL offers a well-engineered, reliable, and customized range of solutions to deal with aircraft refueling. This procedure is especially crucial as it is mostly conducted in contexts such as airports and air bases to ensure that every aircraft has the right amount of fuel. 
What is an aircraft refueler?
ISOIL has been designing and manufacturing measuring systems for aircraft refuelers in order to guarantee the perfect refueling of aircraft and helicopters. 
Here you can find a complete list of our systems and solutions. 
PD meters 
The ISOIL Positive Displacement Meters are perfect for jet fuel measurement, small aircraft and helicopter modules. Its working principle consists of accurately calculating the volumetric flow rate of fluids, such as oil, fuel, and solvents, that other meters cannot measure. 
Pulse emitter
The ISOIL pulse emitter transforms the rotary movement of a P.D. meter into an electrical input, allowing the interface to communicate with the ISOIL electronic flow computers VEGA T2 and VEGA 3. 
Its advanced design acts like a seal of the meter shaft, ensuring magnetic coupling, making the meter leakproof. 
EM345 is a single-channel, absolutely safe pulse emitter for remote transmission. 
EMT2-2 is explosion-resistant, and has an amplified pulse output inside V / R counter.
EM6422 is a dual-channel ATEX / IECEX approved pulse emitter.
VEGA T2 electronic counter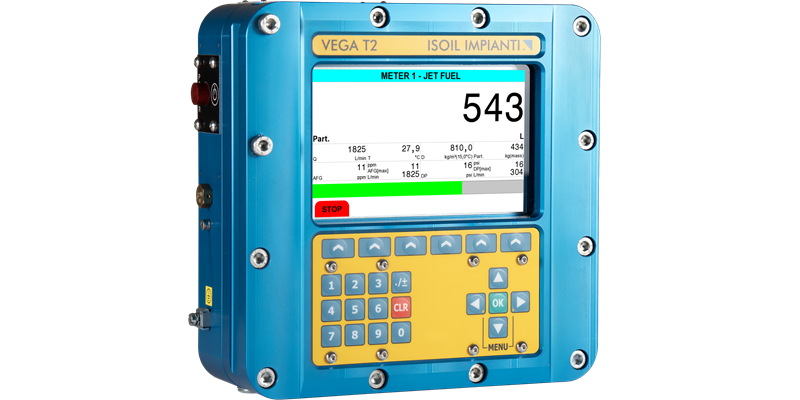 This electronic counter is the key system for automation and measurement operations. VEGA T2 is able to: 
Perform metrological functions;
Communicate with the majority of the devices installed on your aircraft refuelers;
share significant information with the Onboard Computer. 
With flow rate meters, it can provide through communication ports a complete report of useful data to assess every single parameter and make sure it is thoroughly analyzed for impeccable performance.
Large-digit EX display
ATEX certified and suitable to be installed in specific areas, this LFD-6 display is conceived for aircraft refuelers, airports and dispensers. It can be easily connected to ISOIL VEGA T, VEGA T2, and VEGA 3, and it allows the use of 4 monitors at a time for different quantities (volume, flow rate…).
Ticket printer for the aviation sector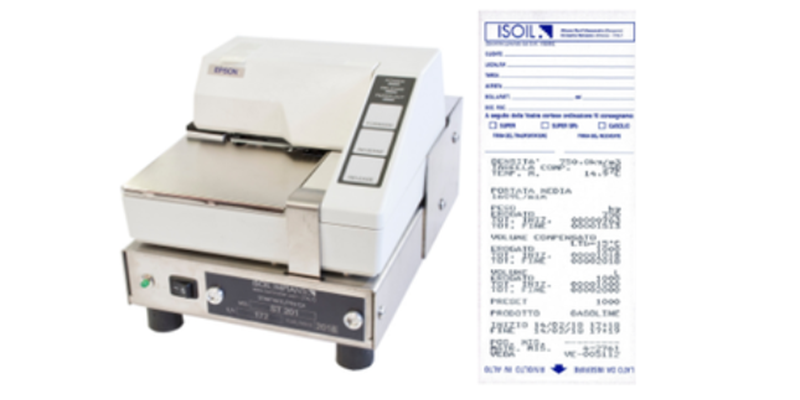 To protect the counter from voltage shifts that can occur on aircraft refueling systems, ISOIL has engineered a safe zone ticket printer. This solution prints measurement data for tank trucks and aircraft refuelers as well as installations in control rooms and for safe zones. ù
The ST201 device:
On/Off switch;
Along with a power supply stabilization; 
Includes filtering circuits;
Features screw connection terminals to facilitate wiring.
Solutions for in-line measurement of product density 
ISOIL offers aircraft refueling solutions to precisely measure density and mass during in-line operations. In this case, fuel density is acquired through the Modbus RTU, while mass is displayed in various measurement units - grams, kilograms, pounds, tons. 
Do you want to find out more about ISOIL aircraft refuelers solutions? 
Contact us
How ISOIL helps you deal with your aircraft refueler activities
Every procedure needs to be carried out with different devices and accessories in order to respond to the increasing demands of a growing market. 
Aircraft refuelers and hydrant dispensers: ISOIL metering systems are highly accurate, guaranteeing constant monitoring of jet fuel loaded onto the Aircraft & Helicopters.
Refueler loading equipment: in this case, ISOIL flow metering solutions allow you to swiftly load refuelers, keeping an eye on accuracy and safety, controlling the operator's actions during the entire process. 
Tank truck unloading equipment: particularly useful to measure products when unloading tank trucks that arrive at the airport. While executing the road bridging procedure, metering solutions constantly monitor the accuracy of the quantity of unloaded fuel. 
Incoming pipelines: ISOIL can provide accurate, and reliable metering solutions when fuel is received into the airport through the incoming pipeline. 
Calibration (master meters): as an aircraft refueler equipment supplier ISOIL can provide reference meters for periodic verification and calibration of the flow meters installed at the site. 
Do you want to find out more about our aircraft refuelers? 
Contact us
Contact us for more informations about our services and products