Aircraft refuelling equipment: from loading to calibration
ISOIL supplies metering equipment for aircraft refuelling vehicles as well as solutions for vehicle loading and unloading, and measuring the incoming product from a pipeline. Discover our solutions. 
ISOIL supplies metering equipment for aircraft refuelling vehicles, for both refuellers and hydrant dispensers, or for fixed stations for refuelling helicopters or small aircrafts. On the tank farm side, measurement and engineered solutions are also available for loading and unloading tank trucks or refuellers, or to measure the incoming product from a pipeline.
Which equipment can we offer for aircraft refuelling? 
ISOIL has developed measuring systems and accessories for the aviation sector, in order to meet industry standards.
Refullers & Hydrant dispensers
As a supplier of aircraft refuelling equipment, ISOIL offers high-accuracy metering solutions, in full compliance with the JIG requirements. Our meters guarantee continuous, reliable, accurate control of the jet fuel loaded onto the truck, and have the full capability of interfacing with the existing automation (On-Board Computers, etc.). 
Refueller loading equipment
ISOIL provides comprehensive solutions for the aviation industry, such as for the loading of aircraft refueller. Our solutions are intended to load the refuellers fast, accurately, and safely, controlling the operator's actions during the entire process to comply with the defined procedures. We are able to offer dedicated engineered pre-mounted skid format solutions, that can be easily integrated into existing plants.
Tank truck unloading equipment
ISOIL supplies equipment to measure products when unloading tank trucks arriving at the airports. When the fuel is received by tank trucks (road bridging), metering groups check with high accuracy the quantity unloaded, thus allowing a fast and smooth operation.  
Incoming pipelines
When fuel is received into the airport through an incoming pipeline, complete metering groups, typically skid mounted, check the incoming quantity of fuel to verify it corresponds to the one sent from the origin. ISOIL can provide precise, reliable, and accurate metering groups for incoming pipelines.
Calibration (master meters)
Periodic verification and calibration of meters installed in the airport are requested. That is why ISOIL, as a supplier of aircraft equipment, provides reference meters, which are the quickest way of performing such operations.
Do you need a specific quote for customized aircraft refuelling equipment? 
Contact us!
Our aircraft refuelling equipment
1. Positive displacement meters 
ISOIL supplies specific PD meters to measure the product dispensed. Full material compatibility, surface treatment, and extended flow rate range make our meters ideal for use in both refuelling vehicles (aircraft refuellers and hydrant dispensers), but also for small airplane and helicopter refuelling modules.
Discover more
2. Pulse emitter
We design and produce pulse emitters specifically developed for dispensers and refuellers. The pulse emitter converts the rotary motion of a PD meter into an electrical signal, enabling the interface with ISOIL VEGA T electronic counter (or with third-party devices). The unique design of the ISOIL pulse emitter makes the meter virtually leakproof.
Discover more
3. VEGA T electronic counter for aviation equipment
The electronic counter is the core of the measuring and automation system that manages the signals from the vehicle. ISOIL VEGA T electronic counter performs metrological functions, and interfaces with most of the instrumentation on board the vehicle, making such info available to the On-Board Computer. 
Discover more
4. Large and bright digit display for Zone 1 (ATEX and IECEx)
ISOIL display LFD-6 is ATEX certified, and suitable for installation in classified areas. It is typically designed for use on aircraft refuelling vehicles in airports thus allowing the operator to read the delivered quantity even when not close to the vehicle.
Discover more
5. Ticket printer for tanker trucks 
ST201 is a safe zone ticket printer suitable for installation on tanker trucks such as aircraft refuellers where voltage fluctuations can occur. This printer includes stainless steel support with power supply stabilization and filtering circuits, as well as screw connection terminals to make wiring easier.
Discover more
6. Solution for in-line measurement of product density 
Accurate corrected volume and mass measurement is extremely important. That's why we developed a compact solution, capable of acquiring density and displaying it over Modbus RTU. 
Discover more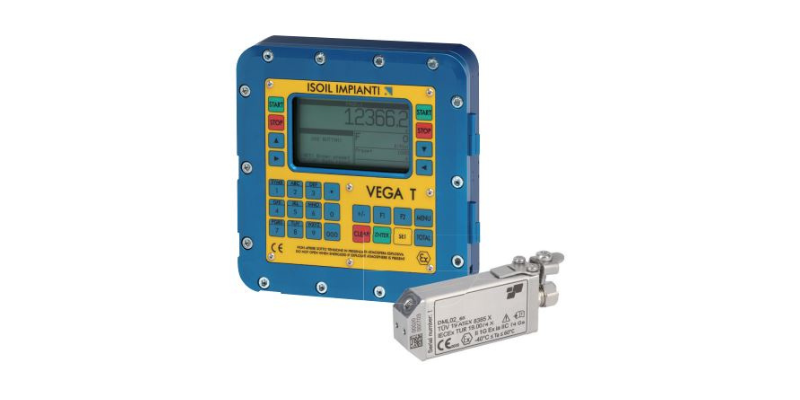 Why choose ISOIL as an aircraft refuelling equipment supplier
 ISOIL history and expertise are proof of our great attention to engineering and to designing certified and tailor-made solutions. In addition, our sales network operates with flexibility and concern all around the world: our service is internationally based on trust and competence.
 Moreover, ISOIL guarantees:
Product quality - our equipment is certified and compliant with the local regulations, as well as reliable in terms of low maintenance and resistance;
Measurement accuracy - our aircraft refueling equipment has a minimum margin of error that meets the law requirements;
Precision - time stable calibration scale;
Customized solutions - we are able to provide tailor-made solutions;
One-to-one customer service - operating all around the world;
Very long experience in the development of metering solutions.
Are you interested in our aircraft refuelling equipment?
Contact us
Contact us for more information about our services and products